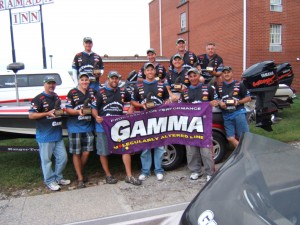 RESULTS ARE POSTED
Welcome to 2013 Eastern Regional Team tournament.
We have 24 teams if provided nothing changes.
Captains meeting mandatory Thursday night June 20Th 7:00 pm located at the Days Inn Brewerton N. Y. in the lobby. Teams Please only send captains as it will be tight space wise.
Each Captain should have $20.00 lunker fee and $7.50 for ramp fee for each member of the team. Or a total of $165.00 per 6 man team provided each member gets in lunker pool.
We will have Angler and Co-Angler lunker prize for both days. Each team will get 6 parking passes in the packet, additional parking passes can be purchased if you plan to leave your vehicle in the upper parking lot Friday or Saturday.
Please make sure you check your livewells, kill switch and lights work properly before you come to the tournament.
Total purse will be $8400.00
We will be paying 7 spots
!st Place $3780.00
2Nd Place $2100.00
3RD Place $840.00
4Th Place $672.00
5TH PLace $588.00
6TH Place $504.00
7TH Place $336.00
8Th place will receive Venom lures certificates.
Maintenance gate should open at 5:00am.
If everything goes well we will target the blasting off at 6:15 am.
Please on the days of the tournament meet your partner at the upper parking lot. Only get in the ramp line when your boat is ready to launch! Straps off, light on, transom savers removed. When you come down the lane you should be prepared to launch. Please don't tie up the ramp we have 72 boats to launch.
Most likely we will have 3 flights.
Off limits: There will be no locking through the canal!
More detailed rules will be discussed at the Captains meeting.
Have a safe trip driving up to the lake and more importantly be safe on the water!
Good luck to everyone!
If you have any questions please call me after 6:00pm this week.
Mike Sabbi 484-880-8366 or email pabassvp@gmail.com