The 2023 PA Jr Championship along with the High School Championship were held on Oneida Lake July 8 and 9. Day 1 would see calm waters with light winds forecasted. At the end the day, the team of CUTLER/SUKEENA would bring in 17.45 followed by GUNKLE/BERGEY 15.71, MAGARGLE/BERGEY 9.55 and INDELL/PELECHAK with 6.48. Day 2 had a building ENE wind with storms threatening but the fish kept coming in. INDELL/GUNKLE would weigh in 1st and push the total to 22.89. GUNKLE/BERGEY would then step up with their limit but they were short of a limit. Their 4.83 big fish was 1 of 4 that would push the total to 28.18. Now the day one leaders would need nearly 11 pounds to remain in 1st and take the JWC slot. They would arrive with a limit, a big fish of 4.21 and a total of 12.85. This would send them to the JWC with 30.30lbs. CONGRATULATIONS Justin Cutler and Garrett Sukeena.
On the high school side 3 of 4 teams would come in with limits. The team of SPITTLER/HASSLER would set the bar with a 4.51 big fish and 16.31. MAGARGLE/BARNES would plop down a 4.31 big fish but only had 2 others to go with it for 8.61. Now came the team of KAUFFMAN/CAREY and their 5 fish for 18.84 to take the lead leaving STINER/KAPP. A big 5 fish bag would hit the tank but would be a little short at 17.86.
4 hours of rain would start the day off and it would remain partly cloudy with lower temperatures than the last 2 days. Talan and Ehren worked hard all day through a variety of baits. Their just under 6 pounds would fall just short of the leaders and put them in 2nd place throughout the weigh in. Until Colorado showed up with the final 12's ONLY 5 fish limit. Securing them the win and moving our boys to 3rd. Nice job guys. We will see you on the High School side next year.
A little short of the Division Champion but enough weight to fish Championship Friday. With all weights being zeroed it is a mad dash to the Junior World Championship title.
Kentucky lake was very stingy today. Team after team (more than half the field) would head to the scales without any fish all telling about how brutal it was and the amount of fish under 15 inches. But on this hot hot hot day the boys would weigh in 6-10 pounds and are tied for 5th overall just 2-11 out of the lead. They would also weigh what I believe was the days big fish – this 3-13 bronzeback. Head down and power ahead gentlemen.
Talan Spittler and Ehren Hassler are out on the water right now. Check back later to see how they did on Day 1 of the Junior World Championship on Kentucky Lake, Paris TN
The 2022 PA Jr State Championship was held at Lake Oneida, NY on July 9-10. On day 1 the team of Justin Cutler/Garrett Sukeena jumped out to a 4.60lb lead with a 5 fish limit anchored by a 3.41 largemouth. Undaunted, the team of Ty Magargle and Quintin Bergey would return on day 2 and swing for the fences. According to their boat captain, Casey Magargle, they connected early and often but lost a number of fish; a couple of them were good ones! Boat Captain Jeff Cutler said when he came in, "I think they left the door open for them, they lost a good one"! Ty and Quintin would weigh in first and push the scales with a whopping 16.87lbs leaving their competition needing 12.28 to win. Justin and Garrett would be 1 short of a limit and 3.97 short of the win when they weighed in 4 for 8.31lbs. Ty and Quintin will represent PA at the 2023 Junior World Championship in July/August.
Moved this Link up
Here is a link to the application
2020 PA STATE CHAMPIONSHIP FINAL
Going out on Day 2 were Joshua Kaufmann and Trent Carey with a scant lead over the team of Jerry Hodge and Joey Booker; just 1.21 pounds separated them. Each team went out in search of a limit and hoping for that one big bite that might put them over the edge. The big bite came for the Hodge/Carey team when their Susquehanna Smallmouth hit the scales at 3.76 pounds. But the other 4 would leave them a heartbreaking 0.21 pounds short and Kaufmann/Carey will be on their way to the Junior World Championship in July/August 2021.
In all, the junior anglers would bring in 47 bass for nearly 100 pounds over the 2 days. The high school teams would bag 7 out of 8 limits over 2 days for 75 pounds.
But the story of the day comes in the form of true sportsmanship on the High School side of the event. On the way to the ramp, a team spun a bearing with no way to continue on and was faced with having to go home. Another boat captain offered to take the team out so the team assigned to the boat was asked if they would mind sharing; note, this team was leading the tournament but still jumped at the opportunity to help out. They went to their honey hole, shared their baits and both teams brought back 10 pound limits. No one will know if this cost them the "win" but they didn't care; they go to help out another team who would have had to go home. Click the link below,,,,,,
2020 PA STATE JUNIOR CHAMPIONSHIP – Day One
Day 1 of the 2020 PA State Junior Championship on the Susquehanna River out of Sunbury is in the books and it is the team of Joshua Kauffman and Trent Carey who sit on top. It will be a restless night for these young anglers knowing that their lead is razor thin; just 1.28 pounds in the lead over second. BUT, history shows that it is still anyone's ballgame. Here are the results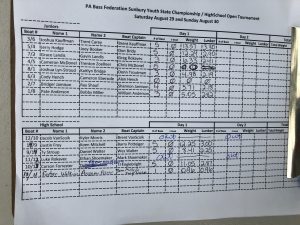 2020 Junior World Championship
Mosquito Creek State Park in Trumbell County, Ohio was the site of the 2020 Junior World Championship. Our team started off weighing in a single fish but spirits were high because they remembered that this is what happened at the PA Junior State Championship when lightening struck on day 2. That would not repeat itself in Ohio but they had a great time and wanted to thank everyone in the Federation for the opportunity to do this.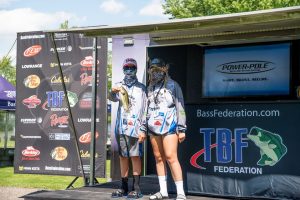 2020 Gouldsboro Junior and SAF tournament.
A beautiful but hot day greeted 9 teams in the Junior/SAF Open at Gouldsboro on the Susquehanna River. 26 fish would be caught, weighed and immediately released with the boat captains keeping each teams score throughout the day. When it was over the team of Joshua Kaufmann/Trent Carey (BC Brent Kauffman) would take 1st in the Junior Division with 5 fish for 14.75lbs and the team of Justin Frey/Koen Mitchell (BC Barry Potteiger) would take 1st in the SAF High School Division with 5 fish for 16.00lbs with the days BIG FISH 4.31. Nice job to all the young men and women who competed.
A special thank you to Brian Setlock who provided tackle packs for all of the participants, Gamma Line who provided line to all, Mike Sabbi for getting all the stuff PA BASS gave away, Deborah Wilson and Barry Potteiger our Youth Directors (also thank you Barry for the equipment used for the tournament) and Stev'e "I Got That" Koch who is the PA BASS "hauler" — Last but not least the Boat Captains <– THANK YOU
Results and Pictures below.
PA Bass Federation Goldsboro Open Youth/High School Tournament
Saturday, July 25, 2020
Juniors
Boat #
Name 1
Name 2
Boat Captain
# of Bass
# Dead
Weight
Lunker
Place
3
Joshua Kauffman
Trent Carey
Brent Kauffman
5
0
14.75
1
1
Jerry Hodge
Joey Booker
Brian Setlock
3
0
6.13
2
2
Grace Landis
Gavin Landis
Greg Rokavec
1
0
2.88
3
High School
Boat #
Name 1
Name 2
Boat Captain
# of Bass
# Dead
Weight
Lunker
Place
9
Justin Frey
Koen Mitchell
Barry Potteiger
5
0
16.00
4.31
1
5
Ty Stroup
Daniel Walter
Wes Walter
5
0
9.44
2
6
Foster Wilkins
Andrew Pisano
Tony Cicero
3
0
4.94
3
8
Luke Rokavec
Ethan Shoemaker
Mark Shoemaker
2
0
4.13
4
4
Spencer Grishkot
Andrew Anderson
John Rupp
2
0
3.44
5
7
Jacob VanScoik
Kyler Morris
Brent VanScoik
0
0
0.00
6
2019 JUNIOR CHAMPIONS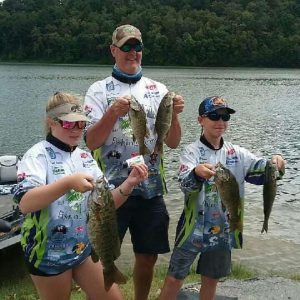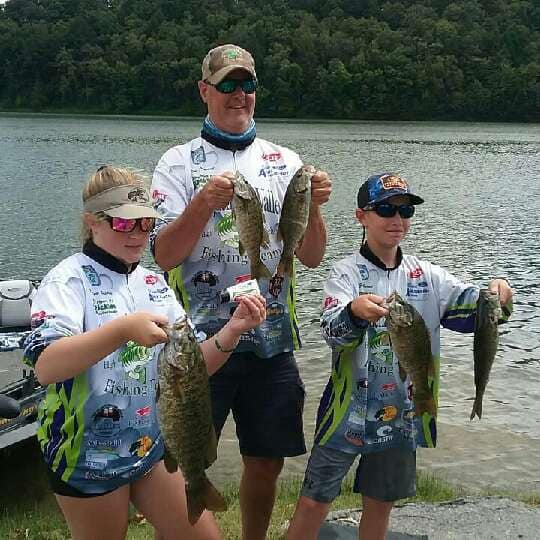 2019 Pennsylvania Bass Federation Junior State Championship Results
Congratulations to team of Joshua Stroud, Kaitlyn Bridge and Captain Tom Prowant for thEIr come from behind win! Day 1 found this team in 5th place with 1.09lbs but on Day 2 they hit the mother load of bass with 8.59lbs, anchored with the largest fish of the 2 days; a 3.59lbs beautiful smallmouth bass. For a total combined 2 day weight of 9.68lbs! Joshua and Kaitlyn will represent Pennsylvania Bass Federation Juniors at the 2020 TBF Junior National Championships!
Although the weather broke just before the 2 day Championship. Raystown Lake proved to still be very difficult to catch keeper size bass of 12″ or bigger!
A special thank you to Tom Prowant for organizing the location and hotels for this year's event! And also to Barry and Judy Potteiger, Steve Koch and Ray Bradshaw for donating their days and time to make the tournament run smoothly!
Day 1 results
Joshua Stroud, Kaitlyn Bridge. 1.09lbs
Josh Kaufman, trent Carey. 2.94lbs
Luke Rokavec, Nick Lloyd. 3.77lbs
Robert Miller, William Anderson 1.71lbs
Eathan Shoemaker, Ryan Mowery 1.25lbs
Joey Booker, Foster Wilkens
Day 2 combine totals
Joshua Stroud, Kaitlyn Bridge 9.68lbs
Josh Kaufman, Trent Carey. 8.95lbs
Luke Rokavec, Nick Lloyd. 4.36lbs
Robert Miller, William Anderson. 3.81lbs
Ethan Shoemaker, Ryan Stroud. 1.25lbs
Joey Booker, Foster Wilkens
Tournament Lunker award Kaitlyn Bridge 3.59lbs
2019 JUNIOR STATE CHAMPIONSHIP
This will be a 2 day tournament on August 24th & 25th
Location: Aitch Ramp at Raystown
Registration: 5:15 till 5:55 everyone must check in with Barry Potteiger and Steve Koch on Saturday morning and with myself on Sunday.
Time: 6:00am
Weigh-in: 2:00pm every team must check-in weather they have fish or not.
Each team must consist of 2 juniors and a boat captain.
5 fish 12″ limit
All Pa boating & Safety rules will be observed, all Juniors and captain must wear Life Preservers any time the outboard is running and the boat captain must have the kill switch attached to them
The draw will be random and day 2 we will flip flop the order.
Off limits areas are marked down at the Dam and the small cove just past James Creek(there is a marker in the middle of this cove)
There are a few hotels in The Huntington area.
Comfort Inn had special pricing of $95.00 a night.814-643-1600. Please tell them you are in the Pennsylvania Bass Federation Junior Championship!
Other hotel locations in Huntington Motor Inn. 814-643-1133
Every team must email or send a text picture of their application no later than next Thursday.
Any Question please email me or text or call after 6:00pm
pabassvp@gmail.com or 484-880-8366
Here is a link to the application
2016 TBF Junior State Champion Gavin Enders represented Pa Bass in the Mid-Atlantic Division at the World Championship August 11th & 12th in Columbia SC. on Lake Wateree. Gavin came in second in the Division with 4.7 pounds. He represented out state quite well. We at Pa Bass are proud of his efforts on the lake and how he conducted himself representing Pa. We wish Gavin well in the future and hope to se him in our High School program.
Greg Smith
Pa Bass/ Youth Dir.
IT'S TIME FOR THE 2017 TBF JUNIOR STATE CHAMPIONSHIP
PaBass along with the TBF will be holding our annual JUNIOR STATE CHAMPIONSHIP August 19th and 20th at Anchor Marine in
Notheast Md. This tournament is open to boys and girls ages 11 to 15. The winner of this tournament will move on to the Junior World Championship held next August. Date and location to be announced.
Anglers are responsible for getting a Boat Captain with an approved Bass boat. Try and come as two anglers. As this is how we will pair each angler in a boat. We may have volunteer Boat Captains but can not guarantee how many so if you are having trouble please contact us we will try and hook you up.
NO CHILD WILL BE SENT OUT BY THEMSELVES WITH A CAPTAIN
If planning to come we have blocked a book of rooms at a special rate at the COMFORT INN in Northeast MD. They are located on Rt. 272.
Phone 410-287-7100. Tell them you are in the PaBass2017 Junior Championship
There is a mandatory meeting of all those participating Friday night at 7:30 pm in the conference room of the motel to go over rules and assign boats and partners.
If you have any question please contact Greg Smith, Pa Youth Director, @ gjsmith1949@gmail.com
2016 PA BASS JUNIOR STATE CHAMPIONSHIP Results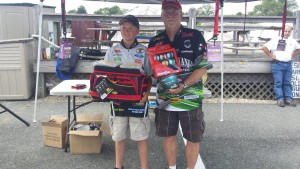 CADIN SHEESLEY 2015 PA JUNIOR STATE CHAMPION
Pa Youth Director:
I would like to thank all the young competitors, their parents and friends who came out to our State Championship at North East MD. Anchor Marine on the 8th & 9th of August.
I would also like to make special mention to the Boat Captains who volunteered their time and boats for the two days.This event and all the one's through out the year could not happen with out them.
GREG SMITH
PA YOUTH DIRECTOR
JUNIOR STATE CHAMPIONSHIP RESULTS;
1st CADIN SHEESLEY 7.00 lbs
2nd ADIAN FORD 6.11 ibs
3rd STEVEN SNYDER 5.43 lbs
4th JUSTIN HARANT 4.43 lbs
5th GAVIN ENDERS 3.43 lbs
6th NATHAN MAGUIRE 2.79 lbs
7th CAMERON ANDERSON 0.79 lbs
8th DYLAN EDWARDS 0.93 lbs
8th NOAH PRINTZENHOFF 0.93 lbs
9th DREW FINKEY 0.00 lbs
9th STEPHEN FOOR 0.00 lbs
GREAT JOB JUNIORS
Junior Anglers age group is 11 to 15 years old . Both boys and girls are encouraged to sign up for these tournaments. You need not have fished before and do not have to have a boat to participate.
Keep an eye out for tournaments in your area. If you have any questions please do not hesitate to contact me (Greg Smith / Youth Director) at youth@pabass.com. You can also go to the TBF web page an look under youth for additional info.
The Junior State Championship will be held August 8th & 9th on the Upper Chesapeake Bay. Ramp location to be determine.
The Junior World Championship will be held in Hot Springs AK. this year along with the Forest Wood Cup. The Juniors will be fishing a different lake than the Pro's but will get there chance on the Cup stage. The prize for the winner is a scholarship from the TBF.
DISTRICTS CLUBS OR MEMBERS
Please let me know when you schedule tournaments for any Junior Club or members you are sponsoring so we can post it, plus the results and pictures