The 2022 High School Championship was held at Lake Oneida, NY on July 10, 7 teams would compete on this day that started off cool and crisp with calm waters. The team of Josh Stroud/Zach Stroud would start off the weigh-in and set the bar high with 5 fish for 15.75. Colegan Stiner/Conner Kapp would come up a little short with their 12.04lbs but then Talan/Spittler (JWC Qualifier)/Ehren Hassler would dump a nice looking bag in the dink tank. It looked close and it was when the scales stopped at 15.28. You could hear the whew from Team Stroud. Jake Rowlands/Gavin Serge 7.98lbs, Foster Wilkins/Andrew Pisano 4.30lbs and Nolan Fernandez/James Deffley 2.43lbs after a 4lb late penalty would leave what turned out to be the best for last. Josh Kaufmann/Trent Casey would dump a BIG bag of smallies in the tank that would end up giving them the WIN with 16.87lbs anchored with a 3.96 just short of taking big fish (4.30).
Here are the results of the 2020 Quad State High School Championship. Congratulations to all of the State winners and an additional Congratulations to Jerry Brumbaugh and Hunter Klotz who were the Overall Winners just edging out the 2nd place overall team of Andrew Pisano and Foster Wilkins by 0.73 pounds who caught the days Big Fish; 5.07. There was a total of 9 (4 bass) limits caught and 53 fish total with ZERO FATALITIES — NICE JOB ….pictures to follow
PA Bass Federation QUAD STATES High School Tournament
May 31, 2020 Susquehanna Flats
Pennsylvania
Boat #
Name 1
Name 2
Boat Captain
# of Bass
# Dead
Weight
Lunker
Place
21
Jerry Brumbaugh
Hunter Klotz
Gerald Brumbaugh
4
14.67
4.59
1
3
Andrew Pisano
Foster Wilkins
Nick Canestra
4
13.94
5.07
2
9
Josh Kauffman
Trent Carey
Brent Kauffman
4
11.36
3.76
3
6
Dylan Edwards
Luke Rokavec
Dan Edwards
4
11.07
3.39
4
13
Stephen Foor
Andrew Fields
Doug Lamborn
4
8.73
5
11
Jacob VanScoik
Kyler Morris
Brent VanScoik
2
6.97
4.68
6
5
Carson Forrester
Dylan Barefoot
Toby Forrester
3
6.26
7
1
Justin Frey
Koen Mitchell
Barry Potteiger
2
4.48
8
14
Tucker Hastings
Cameron McDonel
Chris McDonel
2
2.62
9
8
Connor Kapp
Dylan Henrie
Benjamin Kapp
1
1.97
10
4
Ty Stroup
Daniel Walter
Wes Walter
1
1.51
11
16
Daniel Hawkins
Andrew Walsberg
Jim Hawkins
1
1.51
11
15
Westin Horn
Cooper Rosen
John Uhler
0
0.00
13
19
Dane Leopold
Owen Kelly
Doug Leopold
0
0.00
13
Maryland
Boat #
Name 1
Name 2
Boat Captain
# of Bass
# Dead
Weight
Lunker
Place
20
Travis Nale
Reed Barra
Chuck Nale
4
12.10
1
23
CJ Bennett
Grayden Scibilia
Al Scibilia
4
9.87
2
2
Blake Flaugher
Tyler Hogue
Chris Patton
4
8.95
2.46
3
17
Gage Anderson
Joey Booker
Joe Booker
2
5.09
4
18
Cameron Anderson
Spencer Grishkot
Cory Cook
1
1.56
5
7
Mason Newton
Cameron Barton
John Hamilton
1
1.05
6
10
Haden Sisk
Peter Sheggrud
Thomas Sisk
0
0.00
7
New Jersey
Boat #
Name 1
Name 2
Boat Captain
# of Bass
# Dead
Weight
Lunker
Place
12
Kyle Gilson
William Whitehead
Vincent Pustizzi
4
12.73
4.54
1
Delaware
Boat #
Name 1
Name 2
Boat Captain
# of Bass
# Dead
Weight
Lunker
Place
22
Logan Ruff
Evan Bond
Tony Osborne
1
2.18
1
The 2020 Quad State High School Championship is underway on the Chesapeake Bay. Although weigh in can not be attended by family and onlookers due to current Wuhan restrictions we will post photos. For now here are the photos from this morning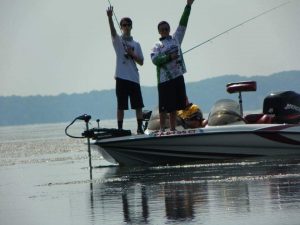 S.A.F. QUAD STATE CHAMPIONSHIP JULY 14th 2019
PLEASE MAKE SURE YOUR TEAMS SIGN UP ON LINE AT:
www.highschoolfishing.org
Any questions drop me a line
Mike Sabbi 484-880-8366 pabassvp@gmail.com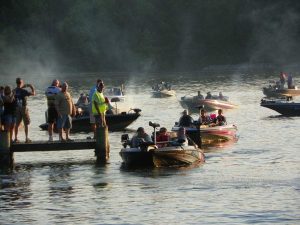 ---
SAF REGIONALS HELD AT LAKE WINNIPESAUKEE NH.
Pa SAF had two teams representing us at this years Northern Regional held on Lake Winnipesaukee in New Hampshire.
They were Jordan Sypeck and Matt Dolak representing Lehigh Valley Bassmasters. They finished first at the Quad State Championship. Also going to the Regional was Cameron Strosser
and Tyler Ziegler representing McCaskey H.S.They finished second at the Quad State Championship.
Both teams represented Pa Bass well in the one day tournament. Strosser and Ziegler came in 5th with 5 fish and a weight of 8.12 lbs.
Sypeck and Dolak came in 6th with a weight of 6.14lbs.
Way to go boys you did us proud.
QUAD STATE SAF STATE CHAMPIONSHIP: JULY 25th 2015
Article written by Mark Demko | For lehighvalleylive.com in the local paper about Lehigh Valley Junior Bassmasters. Check it out!
http://www.lehighvalleylive.com/sports/index.ssf/2015/07/lehigh_valley_junior_bassmaste.html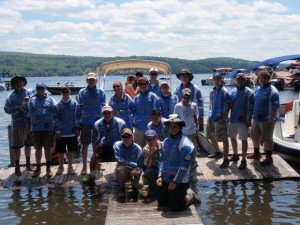 Wallenpaupak June 14 2015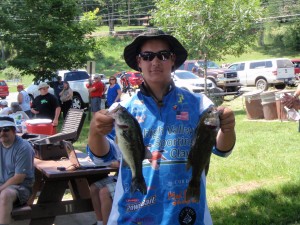 Kole Pokrivsak with two nice bass
High School Anglers Preparing For Their SAF Quad-State Tournament
Student anglers from seven different school districts in the Lehigh Valley and beyond consisting of: Nazareth, Parkland, Easton, Emmaus, Northern Lehigh, Central Bucks and Philadelphia, make up the LV Junior Bassmasters Club. This is the second year for the LV Junior Bassmaster's Club which has increased from four anglers last year to twenty-four this year. These student anglers have been fishing local club tournaments with established bass clubs, when there are openings, and their first qualifying tournament was this past weekend down at Elk Neck State Park in Maryland. The anglers had a great time and the sixteen student anglers caught a total of eight fish for a total weight of 21.14 lbs. While fishing this weekend anglers learned a lot about fishing from their boat captains and a great day was had by all. Their next qualifying tournament will be on June 14th at Lake Wallenpaupack and their SAF Quad-State Championship, which will consist of teams from Pennsylvania, Delaware, New Jersey and Maryland, will be at Elk Neck State Park on July 25th.
Team fishing allows the student anglers to fish as a team with a boat captain/owner and the boat captain navigates the boat to where the anglers would like to fish. Each team of anglers can weigh in five bass, smallmouth and largemouth. People willing to help or for more information can go online to www.pabass.com to get in touch with PA Bass Federation Vice President, Mike Sabbi or Youth Director, Greg Smith.
Article written by Lynn Post