Join the PA Bass Federation!
The Pennsylvania Bass Federation, Inc. is the original, largest and premier bass fishing organization in the state. COME JOIN THE EXCITEMENT!
DISTRICTS & CLUBS
The Pennsylvania Bass Federation, Inc. (PA Bass) is currently divided into seven (7) districts as shown on the map below. If you would like more information about joining a PA Bass club, click here to view a list of all clubs and find one close to you. From there you can contact a club or one of the district leaders by e-mail. If no contact e-mail is given for clubs or leaders in your district, please contact the Membership Director directly and the director will be happy to help you find a club or help you form a club of your own. Starting a club is easy with 5 of your closest fishing buddies! Please include the following information in your email: Name, Address, County, E-mail, Telephone number.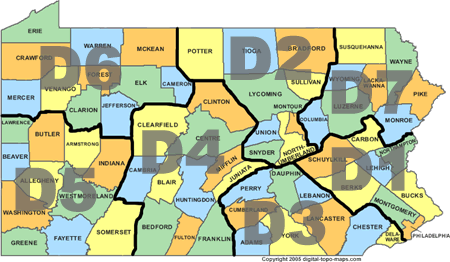 DUES
All dues including PA Bass, TBF and FLW dues are paid at the club level. All PA Bass members must join The Bass Federation, Inc. and FLW as a fishing level member.
All dues are on an annual calendar year basis. TBF Inc. dues are $15 and provides liability insurance for your club tournaments and some events. PA Bass dues are currently $40 annually and help provide the organization necessary to support the tournament trail that can lead to the FLW championship! FLW membership at the Competitor level is $35.00 a year. The FLW offers many Big-Time tournament opportunities to the PA Bass / TBF Inc. members. FLW benefits are too numerous to list. If you are already an FLW member, your club membership director will need your current FLW membership number.
Dues are collected by your club, usually with your club membership, and submitted to PA Bass on your behalf. We forward information and payment on to TBF and FLW.
Any club that is accepting new members is requested to send the Club name, contact person, and phone number or e-mail address to the Membership Director.
ONLINE CLUB ROSTER MANAGEMENT
All changes in information for club members must be made through the TBF membership site found at:
https://tbfwebservices.com/app.php
CONSTITUTION & BYLAWS
MEMBERSHIP NEWS
Stay up to date on the latest membership info by subscribing to TBF eNews!
CLUB FUNDRAISER
If your club is looking for a unique way to raise money, TBF has one for you – Customizable Polarized Sunglasses.Visit the club fundraiser page.
MEMBER BENEFITS
$1 million in general liability insurance for your club.
$25,000 excess medical coverage!
$10,000 AD&D event coverage for every TBF member.
Special product discounts and TBF member rewards from many of our sponsors, including:

Ranger Boats
Evinrude
Berkley and more

A chance to advance through competition to fish in major bass tournaments: MORE OPPORTUNITIES FOR TBF MEMBERS
Forrest Wood Cup (1 pro angler, 1 co-angler)
BFL All-American (7 boaters, 7 co-anglers)
Twice the number of TBF Anglers (2 from each state vs 1 as in the past) progress to the Federation National Championship, Presented by the National Guard.
"Living the Dream" contract for the winner of the Federation Championship.

Fully-paid entry fees as a PRO into the winners choice of the FLW Tour events, or fully-paid entry fees into the FLW Series events.
The use of a wrapped "Living the Dream" branded Ranger boat powered by a Evinrude or a Yamaha Outboard.
The use of a wrapped, "Living the Dream" branded Chevy Truck.

FLW will reserve guaranteed berths in the FLW American Fishing Series for TBF state champions, provided that such champions enter one (1) FLW American Fishing Series division and compete in all four (4) FLW American Fishing Series events in that division. The champion must also pay entry fees for all four (4) FLW American Fishing Series events in that division to be guaranteed the berth.
FLW will provide priority registration to TBF boaters and co-anglers into the Bass Fishing League (BFL) events if they enter by the priority entry deadline with a counterpart (boater with a co-angler or co-angler with a boater). FLW will provide priority registration dates to TBF co-anglers who are dual members into the FLW American Fishing Series ("FLW American Fishing"), the Wal-Mart FLW Tour ("FLW Tour") and Wal-Mart FLW Series ("FLW Series"). The early registration time period shall be available to dual members after the early registration for Ranger, Stratos and Champion boat owners and prior to registration for the general public.
Funds to state Federations from sponsor promotions.
$42,000 in cash awards at the TBF\FLW National Guard Junior Anglers World Championship, 2 Children from each TBF state progress, with travel expense money.
Funds to your states youth program, you decide where to spend it.
Funding and equipment for youth programs Such as the TBF "Reel Kids" casting program.
High School and College fishing teams.
Funds to your states conservation program, you decide where to spend it.
National Guard Conservation grant program, apply for funds for your states conservation work.
4 Full pages (Minimum) in FLW Outdoors magazine for federation stories about you! Federation coverage like never before.(we want your stories…contact us!)
FLW Membership Benefits
Magazine and Subscriber Benefits – Receive the magazine during the time your membership is active (may not be eight issues if your membership is less than a year) and all listed subscriber benefits as an active competitor member, PLUS:
Tournament Eligibility – Competitor membership provides eligibility to compete in FLW's over 200 freshwater tournaments across the country for anglers of all skill levels. Fish against weekend warriors in a BFL or compete alongside the pros up at the highest level. You don't even need a boat to compete.
FLW Partner Discounts – Save big on leading brands in cell phones, travel and entertainment, hospitality, insurance, automotive, consumer electronics and much more.
For more information, visit FLWFishing