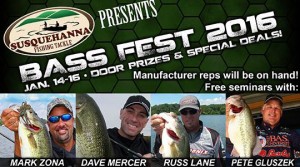 BASS FEST 2016: JANUARY 14-16
Last year's Bass Fest was a huge success, so this year we made it even bigger and better! Manufacturer reps from many of the top brands will be on hand to show their latest tackle for 2016. We will even have bass boats on display! The store will be packed with amazing deals and we will once again be giving away tons of huge prizes! Last year many of you came out last year for the awesome free seminars. This year we outdid ourselves and will be bringing in some of the top names in the business! This year we will have seminars from:
Mark Zona
Dave Mercer
Russ Lane
Pete Gluszek
Adrian Avena
Joe Sancho
It is not often that you can get free advice from names like this, so don't miss out!
Bass Fest will be coming to you January 14 – 16 at our shop in Columbia, PA. If you need help finding us, click here.
EVENT HOURS
Thursday, January 14: 9:00am-9:00pm
Friday, January 15: 9:00am-9:00pm
Saturday, January 16: 7:00am-4:00pm