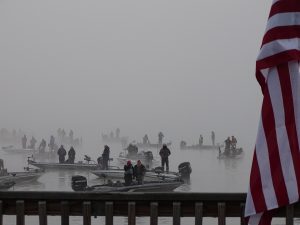 Hi Gentleman,
Congratulations on making the championship, after a very trying year we have been all thru . We are starting to get back to normal, but don't let your guard down!
I will be running the tournament as Chris cannot be in  attendance.
Tournament: launch/weigh-in location Union Springs Ramp
*Official practice starts  Tuesday June 22, meaning you must follow all tournament rules(life vest, no bartering information, off limits to marina's that are posted no fishing, ext.). You can still pre fish the lake before the official practice days. There will be no fishing after Thursday 4:00pm June 24  registration meeting pre-fishing is officially is over with no exceptions! No fishing on tournament waters after you Weigh-in  Friday  until Saturday.
*Registration on Thursday June 24  4:00pm till 5:00pm at Union Springs ramp.
*launch/blast off approx. safe light(5:10am)
*weigh-in 1st flight 2:00pm, 2nd flight 2:30pm
*What you will need is $20.00 if you plan on getting in the lunker pot.
*We will be collecting ramp fee at registration, only if you are using Union Springs launch ,  all boaters must pre pay for ramp launch fees and  co-anglers will pay each paired boater on day 1 launch fee only. I think last year we paid $7.00  a day, but don't hold me to that!
*Co-Anglers please don't forget to offer your boater your share of boat operational expenses!
*We will be having a raffle so bring a extra $20.00 as we have a Lowrance Carbon 9, rods, reels, line, extra..
*You must have a viable N.Y. fishing License.
On a personal note everyone  in the tournament weather you are fishing grass or docks you must share the water with your Co-Anglers!
Please observe social distancing as we have the virus still present with a more contagious strain entered the USA.
Please keep checking for more updates as I will be  updating everyday if not more than once a day.
Any question please text or email me! 484-880-8366  pabassvp@gmail.com
As of 6/20/21 these are the applications we have, I will keep updating this list as we receive applications. If your name is not on the list please contact both Chris and me by email or text, thanks!
ANGLERS
Riders
1
MICHAEL SABBI
STEVE KOCH
2
MIKE GALKA
ADAM IVORY
3
JIM WALKER
CARMINE SAPRONA
4
Mitch Heaton
KENNY LEITH
5
Larry Foor
SCOTT SENNA
6
Richard Witushynsky
Dave Palko
7
Robert Lengyel
Mike Berkheimer
8
Tim Dolon
Ron Gable
9
David Kozlansky
Brett Dalrymple
10
Jim Tyson
Roland Gittings
11
Kris Bucher
Jason Cavanaugh
12
Nick Ferry
Justin Frey
13
Harry Nurk
Bill Lidwell
THOMPSON AS RIDER
14
Jeffery Bloom
Tyler Furrow
15
John Pascavage
DAVE AVVISATO
16
Thomas Thompson
JOE PACHOLEC JR
17
Eric Marsh
REX SHULTZ
18
Mark Hughes
PHILIP LYONS
19
Don Dick
LEVI MCCARTY
20
MATT KLINE
VINCE JULIAN
21
TONY DORMAN
ANDEW HOSTLER
22
GEORGE BOWERS
BILLY HINES pending
23
BRIAN BYLOTAS
Glen Keys
* denotes pending application
24
JOE PACHOLEC SR
LEN SPEED*
25
CHRIS LONGO
BILL LESIAK
26
JUSTIN LACOMIS
ORVILLE ORTWINE *
27
KEITH HOUSEKNECHT
MIKE BERKHEIMER

28
BOB BRODY
BRIAN YUSELLA* pending
29
RAY BRADSHAW
30
JAY NEWSOME
31
BILL BURNSIDE
32
TOM HAFNER
33
DERON ECK
34
MICHAEL TAYLOR
35
SCOTT FANKHANEL
36
BILL WARD
37

38

39

40

41

RICHARD KNOLL

LARRY MOORE *

RICK MULLEN

NICK FEERY

DERRICK LOZER