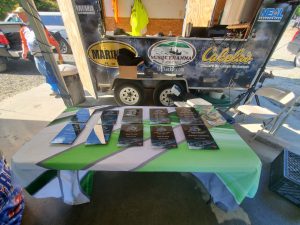 Day 2 was moving day as it so often is during a two day event Although there were 5 anglers who lost their check, several coanglers made the move into the top 14 bouncing back from 0 on day 1. One of the big stories was Andrew Hostler who lost his weight due to a late penalty. Rather than go home like his day one boater did, he went out, started swinging and BAM made the top 10!! Congratulations. Irony would also happen on day 2 with the Big Fish. Both the angler and coangler who caught the day 2 Big Fish would end up in 15th place; one spot out of the money!….But $730.00 was considerably more than 14th place.
On both sides it was a shootout to see who would go the National Championship. The first of the top 4 on the angler side, Brian Bylotas, would bring in another solid limit and push the top spot to nearly 22 pounds. The biggest bag of the tournament followed when Bob Brody plopped 13.45 giving him a 4th place finish from his out of money start. This would leave day 1 leader Joe Pacholec Sr and 3rd place Kevin Gergel. Pacholec did not disappoint when he brought in another 13 pound plus bag to push his total to 26.37. Kevin Gergel would later step forward with the 3rd largest bag of the tournament, 13.24, which would not be enough for the top spot but it was enough to get past Brian by 1.26 pounds and take the 2nd spot in the 2021 TBF National Championship. What a finish.
On the coangler side, Big Fish would play a role. On day 1, Jared Burrows 4.60lb largmouth would put him in the hot seat with 1,50lb lead over Matt Japchen. The real story though is that the weights were so close after day one that any one of 20 coanglers could end up on top. Matt had other ideas though and he went out and smacked the 5th largest bag of the event; 10.93 putting 1st place out of reach and setting a battle for the other ticket to the Championship. Jacob Rash was the only one left that could take the Day 1 leaders ticket and he put 6lbs on the scale forcing the Day 1 leader to put 2lbs down or lose his trip. Jared walked up with his 2 nice smallies for 4.43lbs and would claim that 2nd spot but finish 5lbs behind Matt. Congratulations to all.
State Pride — This is where the President's choose 4 anglers/coanglers to total their weights to see who wins. PA would come out on top 82.02 to 23.33.
Fish totals Angler — 237 for 422.73 pounds. Avg size 1.78. Average fish per angler 3
Fish totals Coangler — 152 for 260.61 pounds. Avg size 1.71. Average fish per angler 2
TOTAL DEAD — ZERO….NICE JOB !! — 389 to fight another day….now they just need to grow and reproduce
Here are the Standings…………..
| | | | | | | | | | |
| --- | --- | --- | --- | --- | --- | --- | --- | --- | --- |
| FINAL | ANGLER | | | | | COANGLER | . | | |
| 1 | JOE PACHOLEC SR | 13.01 | 13.36 | 26.37 | | MATT JAPCHEN | 8.04 | 10.93 | 18.97 |
| 2 | KEVIN GERGEL | 9.69 | 13.24 | 22.93 | | JARED BURROWS | 9.5 | 4.43 | 13.93 |
| 3 | BRIAN BYLOTAS | 11.05 | 10.62 | 21.67 | | JACOB RASH | 5.39 | 6.03 | 11.42 |
| 4 | BOB BRODY | 5.51 | 13.45 | 18.96 | | LYNN WHELAND | 6.14 | 2.57 | 8.71 |
| 5 | MIKE SHUMANIS | 6.94 | 10.56 | 17.5 | | KADE WESNER | 6.64 | 1.99 | 8.63 |
| 6 | TIM DOLON | 3.97 | 10.58 | 14.55 | | CODY EBNER | | 8.51 | 8.51 |
| 7 | JIM STRUBLE | 7.89 | 3.88 | 11.77 | | GLENN KEY | 7.29 | 0 | 7.29 |
| 8 | JAY NEWSOME | 9.35 | 2.37 | 11.72 | | DONALD DICK | 6.29 | 0.9 | 7.19 |
| 9 | ROBERT STOCK | 4.9 | 6.55 | 11.45 | | JOE PACHOLEC JR | 4.77 | 1.98 | 6.75 |
| 10 | JEFF BLOOM | 8.45 | 2.77 | 11.22 | | ANDREW HOSTLER | | 6.23 | 6.23 |
| 11 | JASON SHIPTON | 5.45 | 5.67 | 11.12 | | CRAIG SHILLING | | 6.19 | 6.19 |
| 12 | LARRY FREEMAN | 7.33 | 3.43 | 10.76 | | LLOYD RAHEEM | 5.03 | 0.87 | 5.9 |
| 13 | BILL BURNSIDE | 6.42 | 3.07 | 9.49 | | GARY LERANIAN | 0.72 | 5.12 | 5.84 |
| 14 | BRIAN GRANT | 5.27 | 3.98 | 9.25 | | CALEB HILL | | 5.84 | 5.84 |
| 15 | DOUGLAS SAVINO | 3.74 | 5.24 | 8.98 | | THOMAS THOMPSON | 1.41 | 4.41 | 5.82 |
| 16 | AARON WRIGHT | 5.31 | 3.55 | 8.86 | | ROBERT OBERLY | 2.59 | 2.89 | 5.48 |
| 17 | KEITH HOUSEKNECHT | 5.15 | 3.7 | 8.85 | | DAVE AVVISATO | 0.73 | 4.6 | 5.33 |
| 18 | WILLIAM KRONANDER | | 8.59 | 8.59 | | LEN SPEED | | 5.22 | 5.22 |
| 19 | RICK MULLEN | 5.98 | 2.47 | 8.45 | | RICK CIMINO | 2.22 | 2.88 | 5.1 |
| 20 | DERON ECK | 3.84 | 4.25 | 8.09 | | JOSHUA SHAFFER | 0.92 | 4.15 | 5.07 |
| 21 | MARK GRUSZKIEWICZ | 7.95 | 0 | 7.95 | | ED GUIDON | 3.18 | 1.63 | 4.81 |
| 22 | JOE CULVER | 6.22 | 1.01 | 7.23 | | SAM NOEL | | 4.63 | 4.63 |
| 23 | ROB LAMOY | 7.21 | 0 | 7.21 | | BRIAN YUSELLA | 2.32 | 2.2 | 4.52 |
| 24 | LARRY FOOR | 7.07 | 0 | 7.07 | | FARY LAIRD | 4.36 | 0 | 4.36 |
| 25 | TOM LUCIANO | 4.89 | 2.02 | 6.91 | | CURTIS MCNEILL | 4.31 | 0 | 4.31 |
| 26 | JEFF MANROSS | | 6.84 | 6.84 | | DAVID DUMAS | | 4.31 | 4.31 |
| 27 | JOHN PASCAVAGE | 3.41 | 2.88 | 6.29 | | JASON CAVANAUGH | 4.26 | 0 | 4.26 |
| 28 | KEITH WILLIAMS | 0.82 | 5.09 | 5.91 | | ROBERT ENTLER | 3.42 | 0.84 | 4.26 |
| 29 | GEORGE BOWERS | 2.98 | 2.92 | 5.9 | | VAL DECESARE | 1.28 | 2.81 | 4.09 |
| 30 | JOHN CLAEYS | 5.79 | 0 | 5.79 | | JOHN TURNEY | | 3.76 | 3.76 |
| 31 | ROBERT DAVIDSON | 5.44 | 0 | 5.44 | | STEVE KOCH | 3.74 | 0 | 3.74 |
| 32 | NICK OSMAN | 2.62 | 2.77 | 5.39 | | TOM HAFNER | 3.72 | 0 | 3.72 |
| 33 | JUSTIN LACOMIS | 5.11 | 0 | 5.11 | | ROLAND GITTINGS | 3.66 | 0 | 3.66 |
| 34 | CHAD WEAVER | 1.25 | 3.49 | 4.74 | | BILLY HINES | 3.6 | 0 | 3.6 |
| 35 | BURR SHAW | 1.34 | 3.31 | 4.65 | | SCOTT SNYDER | 2.61 | 0.91 | 3.52 |
| 36 | RICHARD KNOLL | 2.55 | 2 | 4.55 | | RYAN SCARBOT | 2.41 | 0.76 | 3.17 |
| 37 | ANTONIO GOMEZ | 1.84 | 2.6 | 4.44 | | TOM RUTH | 3.12 | 0 | 3.12 |
| 38 | JESS SALMON | 4.18 | 0 | 4.18 | | GERALD BRUMBAUGH | 0.89 | 1.98 | 2.87 |
| 39 | RON BANE | 0.71 | 3.39 | 4.1 | | BRETT DALRYMPLE | 2.53 | 0 | 2.53 |
| 40 | ED KAY | 2.64 | 1.44 | 4.08 | | ORVILLE ORTWINE | 2.47 | 0 | 2.47 |
| 41 | DAVE JAPCHEN | | 3.99 | 3.99 | | FREDERICK CHILLUFFO | 2.46 | 0 | 2.46 |
| 42 | CARMINE SAPRONA | 1.99 | 1.92 | 3.91 | | MIKE MCCONNON | | 2.38 | 2.38 |
| 43 | SHAWN RICHARD | 3.84 | 0 | 3.84 | | BILL LESIAK | | 2.12 | 2.12 |
| 44 | RON WOLF | 3.69 | 0 | 3.69 | | VINCE ALTIERI | | 2.11 | 2.11 |
| 45 | CHRIS SPERLING | 1.56 | 1.85 | 3.41 | | REX SHULTZ | 1.89 | 0 | 1.89 |
| 46 | RANDY SHIRK | 3.22 | 0 | 3.22 | | RANDY PILECKI | 1.61 | 0 | 1.61 |
| 47 | CHARLES PEART | 1.6 | 1.61 | 3.21 | | LEN JANESKI | | 1.56 | 1.56 |
| 48 | RON TAYLOR | 1.23 | 1.57 | 2.8 | | VINCE JULIAN | 1.5 | 0 | 1.5 |
| 49 | TONY DORMAN | 2.6 | 0 | 2.6 | | DANIEL ADAMS | 1.45 | 0 | 1.45 |
| 50 | KEITH GARLEY | 2.39 | 0 | 2.39 | | ADAM IVORY | | 1.34 | 1.34 |
| 51 | CHARLES HARRIS | | 2.3 | 2.3 | | JASON MORDHORST | 1.33 | 0 | 1.33 |
| 52 | CHUCK MANCINO | 1.56 | 0.6 | 2.16 | | JIM WALKER | 1.29 | 0 | 1.29 |
| 53 | TROY DAVIS | 1.83 | 0 | 1.83 | | WILLIAM PECK | 1.22 | 0 | 1.22 |
| 54 | WILLIAM VELLA | | 1.77 | 1.77 | | KEN LEITH | 1.17 | 0 | 1.17 |
| 55 | JOHN ERNEST | | 1.54 | 1.54 | | COOPER ROSEN | 1.1 | 0 | 1.1 |
| 56 | ROBERT LENGYEL | 1.52 | 0 | 1.52 | | PHILIP LYONS | 1.03 | 0 | 1.03 |
| 57 | DAVE KOZLANSKY | | 1.27 | 1.27 | | DAVE EAGLE | 0.79 | 0 | 0.79 |
| 58 | TJ CALLERI | | 1.21 | 1.21 | | DAVE SABATINO | 0.73 | 0 | 0.73 |
| 59 | DERRICK LOZER | 0.79 | 0 | 0.79 | | MARK KURTZNER | 0.7 | 0 | 0.7 |
| 60 | CHRIS EPISCOPO | | 0 | 0 | | DAVID PALKO | 0.56 | 0 | 0.56 |
| 61 | XXXX | | 0 | 0 | | JESSIE LEONARD | | 0 | 0 |
| 62 | MICHAEL TAYLOR | | 0 | 0 | | TYLER FURROW | | 0 | 0 |
| 63 | BILL WARD | | 0 | 0 | | JONATHAN RIDOLFI | | 0 | 0 |
| 64 | JOHN SCHONER | | 0 | 0 | | JOE PICA | | 0 | 0 |
| 65 | RICH WITUSHYNSHY | | 0 | 0 | | XXXX | | 0 | 0 |
| 66 | MANUEL HICKS | | 0 | 0 | | DAVID BIRCHLER | | 0 | 0 |
| 67 | JIM TYSON | | 0 | 0 | | SCOTT SENNA | | 0 | 0 |
| 68 | NATHAN COTE | | 0 | 0 | | BARRY JACOBS | | 0 | 0 |
| 69 | CHRIS LONGO | | 0 | 0 | | BRIAN WERNER | | 0 | 0 |
| 70 | SHAWN WINKLEMAN | | 0 | 0 | | DAVE WILT | | 0 | 0 |
| 71 | JOSPEH DZIEDZIC | | 0 | 0 | | RON GABLE | | 0 | 0 |
| 72 | TJ SAWHNEY | | 0 | 0 | | METZ WEKO | | 0 | 0 |
| 73 | CHRIS GORE | | 0 | 0 | | TJ ENGLEBRIGHT | | 0 | 0 |
| 74 | DAVID SUTTLE | | 0 | 0 | | KEVIN REIMEL | | 0 | 0 |