I will be updating the website everyday so please keep checking.
All applications must be mailed in by September 24th.
I will be leaving home September 28th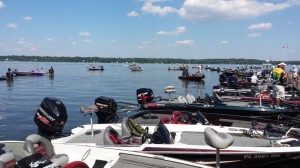 Please send your applications to me if you have not sent it in already. You will need the Lake Erie stamp for this tournament. Catching fish in deep water may require fizzing the air bladder. If you are not sure how to do this procedure try using FLIP CLIPS  attached the lower fin to keep the fish upright in the live well. We will be fishing Pennsylvania waters only at this point that gives you approx 18 mile each way. If we have small craft advisories we will fish the Bay only. All boats must carry flares with current date and Distress signal flags or some type of signal devices. I will air on the side of your safety first under my watch. All life vests must be zipped and buckled anytime the outboard is running from the beginning of the tournament till the end, no exceptions. PS I have never been to Erie so I will use the rules and advice from District 6.
flipclipfishing.com/
As soon as I have the regulations for fishing Lake Erie I will post them.                                                                                                                                                                                                                                               4 fish limit 15 inches or greater                                                                                                                                                                                                                                                                                                     Launch site West Pier Launch
Host Hotel: Clarion Hotel 2800 W 8th Street Erie, PA. 16505
814-833-1116 or 814-838-3242
When booking call these numbers only, group block name is PA Bass Federation to get the discounted price. The cut off date is September 24th, so please book by this date.
Located 1 mile from ramp plenty of electric hook ups and can add more if needed.
I have made a block of 50 rooms with room to grow.
Help me save money for the 2015 Pennsylvania Bass Federation Divisional Team by staying at the Clarion.  Room rates are $70.00 per night.
Thursday night 7:00 pm will be the Pre Tournament meeting most likely at Clarion Hotel conference room.
Any questions feel free to call me after 6:00 pm                                                                                                                                                                                                                                                                                   484-880-8366 or email pabassvp@gmail.com
Pennsylvania Bass Federation C/O Mike Sabbi                                                                                                                                                                                                                                                                                  17 West Uwchlan Ave. Downingtown, Pa. 19335