2017 REEL KIDS CASTING STATE CHAMPIONSHIP
CABELA'S ,HAMBURG ,PA
  SEPTEMEMBER  3rd 
The 2017 Reel Kids Casting State Championship will be held this year on September 3rd  (weather permitting ) outside of the Cabela's Hamburg Pa store. Registration will take place starting at 10:00 am. All those who participated in one of the contest held through out the state this year and came in 1st 2nd & 3rd are eligible to take part in the State Championship.
If you have any question please email youth@pabass.com or call 267-278-6777
HOPE TO SEE YOU THERE
R
ESULTS FROM THE STATE CHAMPIONSHIP HELD SEPTEMBER 4th 2016
We had a great turn out at Cabela's in Hamburg Pa . A total of 37 kids from throughout the state along with parents, friends and hundreds of onlookers to cheer them on. These kids participated in local contests held through out the state during the year. Weather was great and the wind died down enough so it did not effect the contest but enough to keep us cool. The kids participated in two age groups 7-11 and 12-15.  The following are the names of the winners of their age group along with second and third place in their age group.
7 to 11 AGE GROUP
JOEL MORGAN   SOUDERTON PA  120 POINTS
BEN FREEBURN   HUNTINGDON PA   100 POINTS (CAST OFF 30 POINTS)
FREDDY DELL AQUILA    TOTOWA NJ  100 POINTS
12TO 15 AGE GROUP
QUINCEY VAN FOSSEN    LANSDALE PA  130 POINTS
MICHAELA CAMERON    SHIPPENSBURG PA   120 POINTS
DAVON HEIN   COPLAY PA   100 POINTS
GREAT JOB KIDS
PA BASS and the TBF  would like to thank all who participated through out the year and the volunteers who help make these events so successful . We look forward to seeing you next year.
CHECK BACK FOR PHOTO'S OF THE DAY TO BE POSTED SOON
STATE CHAMPIONSHIP @ CABELA'S SEPTEMBER 4 2016
Parents and Guardians
If your child has placed in the top 3 of their age group at one of our REEL KIDS CASTING CONTESTS held through out the state this year. We are having our State Championship on September 4 at the Cabela's store location in Hamburg Pa.
All those who are eligible need to register prior to the start of the competition. We will be registering and having warm up practice from 10:00 am with the competition starting around 11:00 am
Our location weather permitting will be to the right of the entrance on the large concrete pad.
Any questions please call Greg Smith 267-278-6777
Hope to see you there.
Lehigh Valley Jr Bassmasters held a Reel Kids event recently and the media reported on it!
SCHEDULED  REEL KIDS CASTING CONTESTS
Saturday March 5 CALVARY CHURCH OUT DOOR EXPO, Souderton Pa  Check their web page for directions.
BUXMONT BASSMASTERS HOST CLUB : time 10 am  to 5 pm second floor.
Saturday March 12, Wellsville Fishing Flea Market, Wellsville, PA
HERE ARE THE PHOTO'S OF TYHE WINNERS FROM THE HARRISBURG SHOW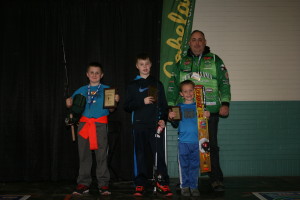 DAY ONE 7-11 AGE GROUP
DEAN FAUST, EVAN BOYANOWSKI, ZACK MILLER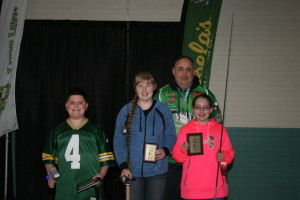 DAY ONE  12-15 AGE GROUP
DAVON HEIN. EMILY RIGHTENOUR, MICHELA CAMERON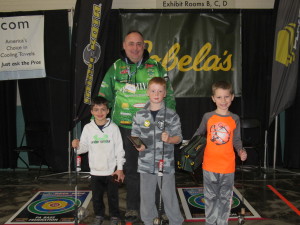 DAY TWO 7-11 AGE GROUP
OWEN POTTEIGER, AIDEN ANDREY, HOLDEN McCULLOCH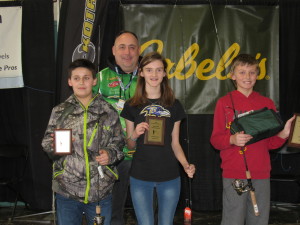 DAY TWO 12-16 AGE GROUP
DAVID TRIGGS, STEPHEN WEIRICH, ELENA SCHELL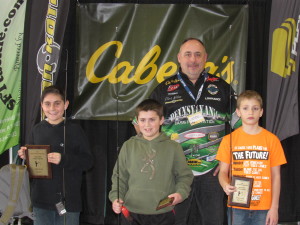 DAY THREE 7-11 AGE GROUP
FREDDY DELL'AQUILO, HUNTER FELTER, BEN FREEURN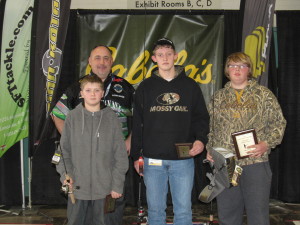 DAY THREE 12-15 AGE GROUP
RICHARD FOSTER, WILLIAM CHILSON, JOHN FOUGHT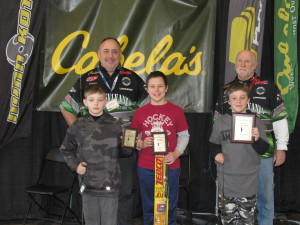 DAY FOUR 7-11 AGE GROUP
TY SISK, CULLEN FOGARTY, HAYDEN McCREADIE
DAY FOUR 12-15 AGE GROUP
STEPHEN WEIRICH, ANDREA DYER ( NOT PRESENT FOR PHOTO) DOMINIC HARDING
The Great American Outdoor Show held in Harrisburg Pa which ran from February 6th to the 14th was the home of 4 days of REEL KIDS CASTING CONTEST'S. on each weekend of the show Pa Bass  held FREE casting contests. The total number of kids who participated was 560. Every child who participated received a free rod and reel combo plus other prizes. Over 10,000 people come through the doors on a daily basis of the show so a lot of people get to see what TBF and PA BASS do to give back to the community. We want to thank Barry Potteiger and his wife Judy for help with this contest and our thanks goes out to them and the volunteers who helped out over the 4 days . JOB WELL DONE.
THANK YOU
GREG SMITH
PA YOUTH DIRECTOR