2016  PA BASS JUNIOR STATE CHAMPIONSHIP Results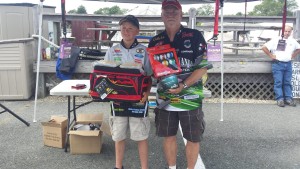 CADIN SHEESLEY 2015 PA JUNIOR STATE CHAMPION 
Pa Youth Director:
I would like to thank all the young competitors, their parents and friends who came out to our State Championship at North East MD. Anchor Marine on the 8th & 9th of August.
I would also like to make special mention to the Boat Captains who volunteered their time and boats for the two days.This event and all the one's through out the year could not happen with out them.
GREG SMITH
PA YOUTH DIRECTOR
JUNIOR STATE CHAMPIONSHIP RESULTS;
1st  CADIN SHEESLEY          7.00 lbs
2nd ADIAN FORD                   6.11 ibs
3rd  STEVEN SNYDER           5.43 lbs
4th  JUSTIN HARANT             4.43 lbs
5th  GAVIN ENDERS              3.43 lbs
6th  NATHAN MAGUIRE         2.79 lbs
7th  CAMERON ANDERSON  0.79 lbs
8th  DYLAN EDWARDS           0.93 lbs
8th  NOAH PRINTZENHOFF   0.93 lbs
9th  DREW FINKEY                 0.00 lbs
9th  STEPHEN FOOR              0.00 lbs
GREAT JOB JUNIORS
Junior Anglers age group is 11 to 15 years old . Both boys and girls are encouraged to sign up for these tournaments. You need not have fished before and do not have to have a boat to participate.
Keep an eye out for tournaments in your area. If you have any questions please do not hesitate to contact me (Greg Smith / Youth Director) at youth@pabass.com. You can also go to the TBF web page an look under youth for additional info.
The Junior State Championship will be held August 8th & 9th on the Upper Chesapeake Bay. Ramp location to be determine.
The Junior World Championship will be held in Hot Springs AK. this year along with the Forest Wood Cup. The Juniors will be fishing a different lake than the Pro's but will get there chance on the Cup stage. The prize for the winner is a scholarship from the TBF.
DISTRICTS CLUBS OR MEMBERS
Please let me know when you schedule tournaments for any Junior Club or members you are sponsoring so we can post it, plus the results and pictures