S.A.F. QUAD STATE CHAMPIONSHIP JULY 16th
PLEASE MAKE SURE YOUR TEAMS SIGN UP ON LINE AT:
www.highschoolfishing.org
Any questions drop me a line
— Greg Smith
---
SAF REGIONALS HELD AT LAKE WINNIPESAUKEE NH.
Pa SAF had two teams representing us at this years Northern Regional held on Lake Winnipesaukee in New Hampshire.
They were Jordan Sypeck and Matt Dolak representing Lehigh Valley Bassmasters. They finished first at the Quad State Championship. Also going to the Regional was Cameron Strosser
and Tyler Ziegler representing McCaskey H.S.They finished second at the Quad State Championship.
Both teams represented Pa Bass well in the one day tournament. Strosser and Ziegler came in 5th with 5 fish and a weight of 8.12 lbs.
Sypeck and Dolak came in 6th with a weight of 6.14lbs.
Way to go boys you did us proud.
QUAD STATE SAF STATE CHAMPIONSHIP: JULY 25th 2015
Article written by  Mark Demko | For lehighvalleylive.com  in the local paper about Lehigh Valley Junior Bassmasters. Check it out!
http://www.lehighvalleylive.com/sports/index.ssf/2015/07/lehigh_valley_junior_bassmaste.html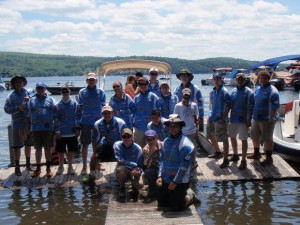 Wallenpaupak  June 14 2015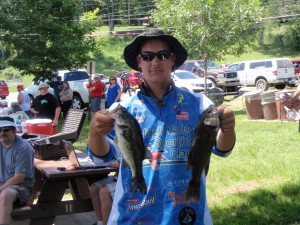 Kole Pokrivsak with two nice bass
High School Anglers Preparing For Their SAF Quad-State Tournament
Student anglers from seven different school districts in the Lehigh Valley and beyond consisting of: Nazareth, Parkland, Easton, Emmaus, Northern Lehigh, Central Bucks and Philadelphia, make up the LV Junior Bassmasters Club. This is the second year for the LV Junior Bassmaster's Club which has increased from four anglers last year to twenty-four this year. These student anglers have been fishing local club tournaments with established bass clubs, when there are openings, and their first qualifying tournament was this past weekend down at Elk Neck State Park in Maryland. The anglers had a great time and the sixteen student anglers caught a total of eight fish for a total weight of 21.14 lbs. While fishing this weekend anglers learned a lot about fishing from their boat captains and a great day was had by all. Their next qualifying tournament will be on June 14th at Lake Wallenpaupack and their SAF Quad-State Championship, which will consist of teams from Pennsylvania, Delaware, New Jersey and Maryland, will be at Elk Neck State Park on July 25th.
Team fishing allows the student anglers to fish as a team with a boat captain/owner and the boat captain navigates the boat to where the anglers would like to fish. Each team of anglers can weigh in five bass, smallmouth and largemouth. People willing to help or for more information can go online to www.pabass.com to get in touch with PA Bass Federation Vice President, Mike Sabbi or Youth Director, Greg Smith.
Article written by Lynn Post